Blue Jelly

Species

Level

22~23

Attack style

Melee (Barehand)

Blue Jelly is a kind of jelly specie which you have to kill in on quest.
Attack
Blue Jelly spins around and flys at you. This move can be easily avoided. The attack also has a squirt sound with it.
Outlook
Blue Jellies float in the air in their bluish Jellatin coverd "spaceship" which apparently flys with the help of Jellyfish Legs. These creatures also have light-blue antennas in their heads.
When all this extra mass is peeled of (upon dead) the creature drops to the ground appearing to be just a black ball with a face. When it falls down you can hear a squirt sound.

Drops
Where?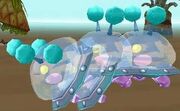 See also
Ad blocker interference detected!
Wikia is a free-to-use site that makes money from advertising. We have a modified experience for viewers using ad blockers

Wikia is not accessible if you've made further modifications. Remove the custom ad blocker rule(s) and the page will load as expected.