Changos are bandits that once lived peacefully with men, but they are now attacking them. This is possibly due to the effect of the Suspicious Apples that the creature use as food.
This happened before Wookibookis trip who is now disrecarded by the other Changos that hit Wookibooki even though he is on of their kin.
Chango (race)

Image

Species

Bandits

Levels

10~19

Fighting Style

Swords

Known members of the race
Attack
Changos attack with two styles;
By hitting the sword to the ground and at the same time hitting you.
Hitting you with the sword from the side.
Outlook
Changos - as all of the other Bandit races - are fat. Changos have short red hair and blue skin.
Changos also have a heart tattoo in their left arm.

They wear red-white striped pants and a Torn Belt.
They wield a large scimitar blade which has lots a makrs of battle. The sword also has a big case that Changos always carries around. Though the good chango Wookibooki doesn't carry any weaponry.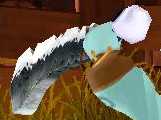 When killed Chango falls down and doesn't turn into a piece of ham.
Upgraded
When upgraded Chango turns into a Ferocious Chango.
Drops
Changos drop;
list incomplete
When killed changos give 472 EXP.
Ad blocker interference detected!
Wikia is a free-to-use site that makes money from advertising. We have a modified experience for viewers using ad blockers

Wikia is not accessible if you've made further modifications. Remove the custom ad blocker rule(s) and the page will load as expected.