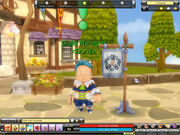 Guild Managers are NPCs that assist players in creating guilds. They're the ones to look for when you hit Level 10 and decide to start a guild in Dragonica. They also sell Guild Skills, but will deal only with Guild Leaders. Guild Managers, usually named known as Dony, will give Guild Quests at level 20.
Ad blocker interference detected!
Wikia is a free-to-use site that makes money from advertising. We have a modified experience for viewers using ad blockers

Wikia is not accessible if you've made further modifications. Remove the custom ad blocker rule(s) and the page will load as expected.