Introduction
The Trade feature allows all players to sell items in their shop. There are several types of shops available: Regular, Premium, Legendary and so on. The higher the tier, the more items you may place in the shop. Shops remain open as long as you're online (unless you've got a Premium shop with 'offline' duration). Shops will close when you log off or change to a different channel.
Steps on Starting a Shop
Click on Trade located at the bottom right of the User Interface.
Next click on My Shop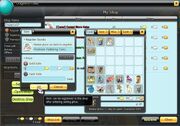 Drag and Drop the Item and Set Price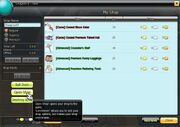 Once done, click on 'Open Shop'
Other features
Retrieve - Allows you to obtain the item from the shop
Lunch Time - Closes the shop to allow modification of the item, add new items or retrieval.
Destroy Shop - Removes everything in the shop.
Ad blocker interference detected!
Wikia is a free-to-use site that makes money from advertising. We have a modified experience for viewers using ad blockers

Wikia is not accessible if you've made further modifications. Remove the custom ad blocker rule(s) and the page will load as expected.