Pumpkin Head

Species

Raccoon

Level

13~14

Attack style

Melee (Spear)

Pumpkin Head is a type of Raccoon which uses spear in its attacks. They are found in Traitor's Ridge Mission Map.
Attacks
Pumpkin Heads attack by thrusting forth with their spears. When they do they form red energy around themselves.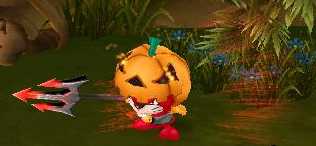 Outlook
Pumpkin Heads have red fur and a angry look on their face.
They wear a darksleved coat and a Pumpkin Head helmet.
They wield a spear.
Drops
These creatures drop;
Where?
Ad blocker interference detected!
Wikia is a free-to-use site that makes money from advertising. We have a modified experience for viewers using ad blockers

Wikia is not accessible if you've made further modifications. Remove the custom ad blocker rule(s) and the page will load as expected.