Red Jelly

Species

Level

23~25

Attack style

Melee (Barehand)

Red Jelly is a kind of Jelly specie that roams around the beaches.
Attack
Red Jelly shall swirl onto you and hit you with its metal parts.
Fighting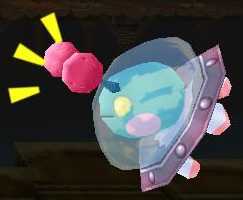 Outlook
Red Jelly has a Jellatin shell and red antennas which form a shell that looks a little like a spaceship. The structure floats in the air possibly with a mechanism hidden in the Jellyfish Legs.
Once this centle structure is torn down the jelly reveals its true self which is a turqoise ball with a face.
Drops
Where?
See also
Ad blocker interference detected!
Wikia is a free-to-use site that makes money from advertising. We have a modified experience for viewers using ad blockers

Wikia is not accessible if you've made further modifications. Remove the custom ad blocker rule(s) and the page will load as expected.