Wicth Doctor Sharpo (race)

Image

Species

Attack style

Magic

Level

19~20

Witch Doctor Sharpos are a type of Sharpo who specialize into magic, like Ogre Shamans.
During the quest What's this for (3) you have to kill Witch Doctor Sharpos to get worms.
Attack

Witch Doctor Sharpos attack with magic. They fire green gas balls at you. These balls are easily avoided but they can be a problem if there are multiple Witch Doctor Sharpos attacking you.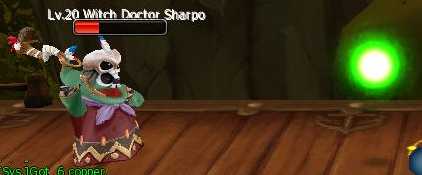 Outlook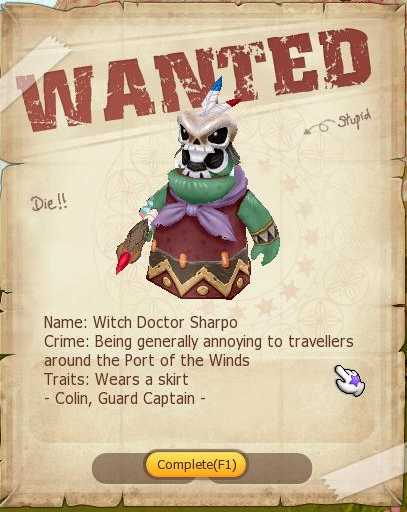 Like all the other Udaka races Witch Doctor Sharpo has a sturdy build. Wicth Doctor Sharpos skin is bluish green and it has dark grey hair.
Like all Sharpos Witch Doctor Sharpo has a skull face paint. Also they wear the same kind of skull helmet that Ogre Shamans do.
Witch Doctor Sharpo wears a blood-darkgrey-beige colored robe and under it grey-dark grey underpants. Also they have some kind of wristbands.
Witch Doctor Sharpos wield Chicken Crown Cane as a weapon.
Drops
These creatures drop;
Copper Coins - around 10~12
Worms - Quest only.
list incomplete
EXP
Killing level 19 Witch Doctor Sharpo gives 785 EXP. Killing level 20 Witch Doctor Sharpo gives 900 EXP.
Where?
Ad blocker interference detected!
Wikia is a free-to-use site that makes money from advertising. We have a modified experience for viewers using ad blockers

Wikia is not accessible if you've made further modifications. Remove the custom ad blocker rule(s) and the page will load as expected.